Wamsutta® Hygro® Duet Bath Towel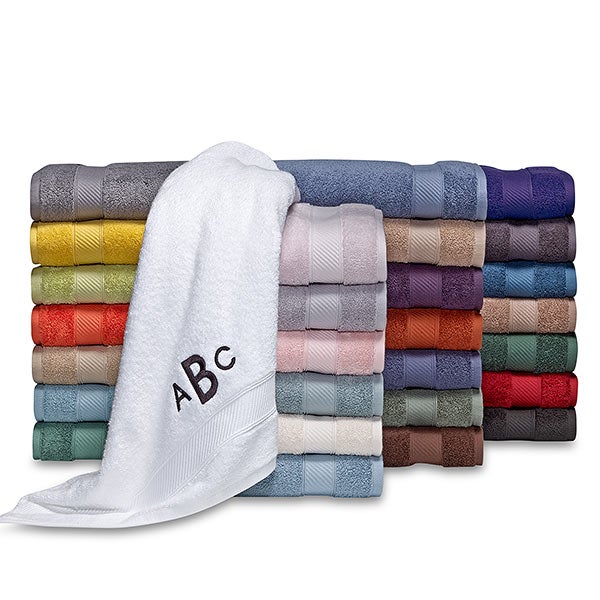 Ships In: 1-2 days
Express ship options available

Express Shipping is available on most items shipping within the contiguous 48 States, and will be displayed on the item page as well as your checkout page as Express Shipping Available.
If your item is available for Express, you will have the option to upgrade to that production and shipping method at the checkout page.
You can choose 2-Day Express option for 2 days of transit time or Next Day Express for 1 day of transit time.
The Saturday Delivery shipping method is only available on Thursdays with the Express Shipping option.

Please allow in-house production time of 1 business day in addition to the actual shipping time.
If an Express shipping method is selected, the exact delivery date will be confirmed and provided on our checkout page.
Sunday shipping or delivery is not available.
If all items on your order are not available for Express, you will receive multiple shipments. However, we bill our customers only one Express or Standard Shipping charge per order regardless of the number of items! Items can not be express delivered unless the Express option is listed for that item. (Express Delivery is not available for shipments to PO Boxes, Alaska, Hawaii, Puerto Rico, Military Bases and International destinations).

This item is not eligible for advertised sales and promotions.
---
item # 18723-BTProduct Details:
Discover sheer luxury after a bath or shower with the ultra-comfortable Wamsutta® Hygro® Duet Bath Towel Collection. Constructed from soft hygro twist loops and 2-ply terry, these ultra-absorbent towels can be personalized for a custom touch.

We custom embroider a single initial, monogram, or name in your choice of multiple thread colors and font options creating a must-have bath piece for any home.
Choose from our Bath Towel, Hand Towel, Fingertip Towel, Bath Sheet, or Washcloth, or add a few of them all for a complete collection! Each sold separately.
The super soft and ultra-absorbent Wamsutta® Hygro Duet Bath Towels brings comfort and function to your bathroom décor
Can be personalized for a custom touch
Super soft Hygro twist loops on 1 side and absorbent 2-ply terry on the reverse
Measures 30" W x 54" L
100% cotton
Machine wash warm
Imported
see more details
---
Personalize This Item:
Frame Option:
Required*
WARNING: Do not use all capital letters, personalization will not be legible
36 character max
Select Accent Color:
Upload Photo:
Required*
WARNING: Do not use all capital letters, personalization will not be legible
This is the error message.
36 character max
Select Accent Color:
Upload Photo:
Required*
WARNING: Do not use all capital letters, personalization will not be legible
You will be able to rotate/crop in the next step
Front of Cards:
Personalize Text:
Required*
WARNING: Do not use all capital letters, personalization will not be legible
Date of Special Occasion:
Required*
WARNING: Do not use all capital letters, personalization will not be legible
Back of Cards:
Couple of Names:
Required*
WARNING: Do not use all capital letters, personalization will not be legible
36 character max
Couple of Names:
Required*
WARNING: Do not use all capital letters, personalization will not be legible
Choose Plural or Singular or Other Option:
Required*
Choose Plural or Singular or Other Option:
Required*
Choose Plural or Singular or Other Option:
Required*
Personalization
Enter up to 12 charaters for a name
Enter up to 3 characters and select a font style
- Select Font -